Rankireddy & Chirag Shetty, Big Potential for Indian Badminton
---
Posted on Mon Dec 28 2020
---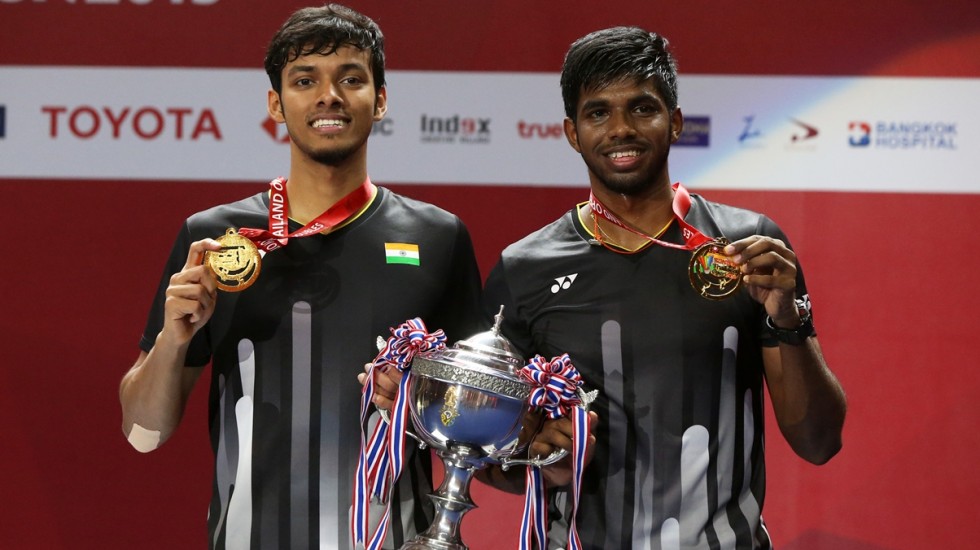 ---
"It was not easier for any country to crack the fortress domination of countries like China, Malaysia, Indonesia and Japan. Now India has done it."
A positive wave has received from Thailand Open 2019 for Indian Badminton future. Rankireddy & Chirag Shetty, Young Indian Men's Pair, World Rank 16, stunned the World Rank 2 and 2018 World Champion Chinese Pair, Li Jun Hui and Liu Yu Chen by 21-19 18-21 21-18 in the BWF tour Super 500 final. Young Indian Men made the history to become a first Indian pair to crown the BWF Super series tour title.
Liu praised his opponents "They were more than we expected. They were calm and in control. In stressed situations, they managed to pull through. They are a big potential threat for a long time."
After the win, Shetty said: "I can't believe that we've just beaten the current world champs. They are really good attacking players so our plan was to keep the shuttle low. Their defence is usually very good too but I think at their height, it looked like they were struggling to come forward low at the net."
Rankireddy said: "I was not playing like usual but I kept telling myself that it's just one more match, one more match. I was so calm and whenever I got a chance, I wanted to finish the shot. I could see that they didn't want to lift the shuttle for me."
Its not just a news, but an opportunity for the national coach P Gopichamd who is already sharpening the horn for Tokyo 2020. India should expect more Badminton medals this time.
"There was an Indian mindset to concentrate only on Singles Badminton, but now it was past history"
After Saina Nehwal, PV Sindhu, and K Srikanth, India has proven it's progress in the international badminton arena, and now Rankireddy & Chirag Shetty are included in that list.
Photo courtesy BWFBadminton
---