New Badminton Talent from Tamilnadu - Rakshitha Sree
---
Posted on Mon Dec 28 2020
---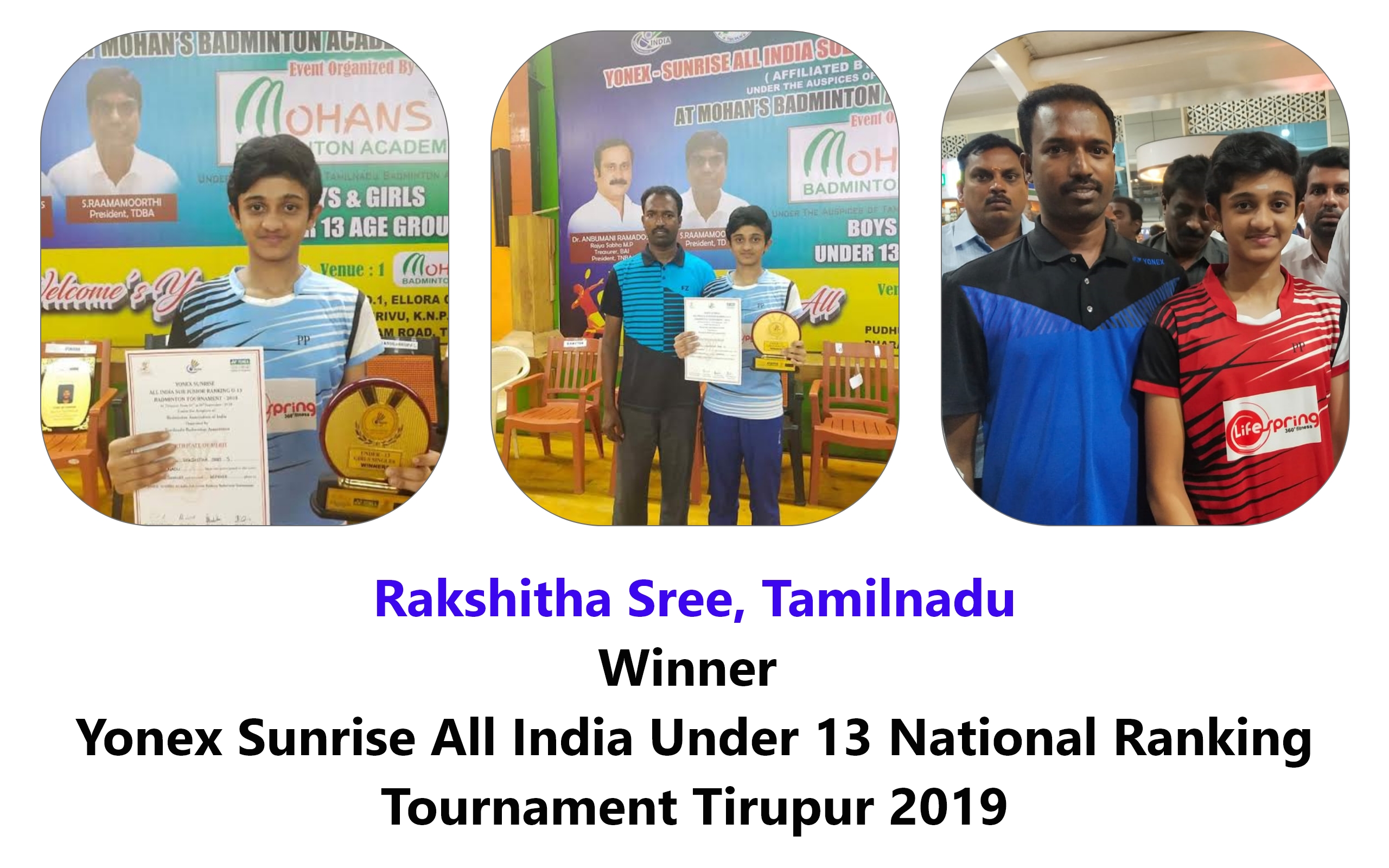 ---
"Rakshitha Sree, daughter of middle class business man of Coimbatore, will be the motivational reason for the future players of Badminton which has been estimated as costlier sport"
Rakshitha Sree, Tamilnadu Sub Junior girl of Coimbatore city has shown her consistent performance in National Tournaments throughout the year 2019. She won the Yonex Sunrise All India Sub Junior National Ranking Tournament 2019 at Tiruppur last week by her dominating performance. And the national ninth seeded girl stunned fourth seeded Anushka Juyal, UTR by 21-17, 21-19 in Pre Quarter Final, fifth seeded Aadhya Singh, JAR by 21-10, 21-12 in Quarter-Final, and number one seeded Navya Kanderi, AP by 23-21, 16-21, 21-15 in Semi Finals. After successfully managed the only challenge given by the top seeded player in semi finals, Rakshitha comfortably tackled the finals against second seeded Shriyanshi Valishetty, Telungana by 21-10, 21-12. After this victory, the Coimbatore girl Rakshitha Sree joined the elite nationals winners list of Tamilnadu after Sankar Muthusamy, Chennai, Sathishkumar, Coimbatore and Varshini, Maduari.
She started her career with Gopinath, AIMS Badminton Academy, Coimbatore and learnt foundations from him. Since 2017, she has been coached by Shibu Gopidas, Life Spring Academy, Coimbatore who produced notable state and national players in the near past. Tamilnadu Top Under 13 player Rakshitha Sree has shown her consistent improvement in the national ranking tournaments of 2019 and is expected carry forward the success run in the upcoming Ranking and Championship tournaments in Bihar this year. She was Quarter Finalist in Udupi National ranking, 2019 and Semi Finalist in Hyderabad National ranking, 2019 lost to top seeded Navya Kanderi of Andhra Pradesh and now she is the winner by defeating all her competitive top ranking players.
---