Eat to Recover - Training day diet for Badminton Players
---
Posted on Mon Dec 28 2020
---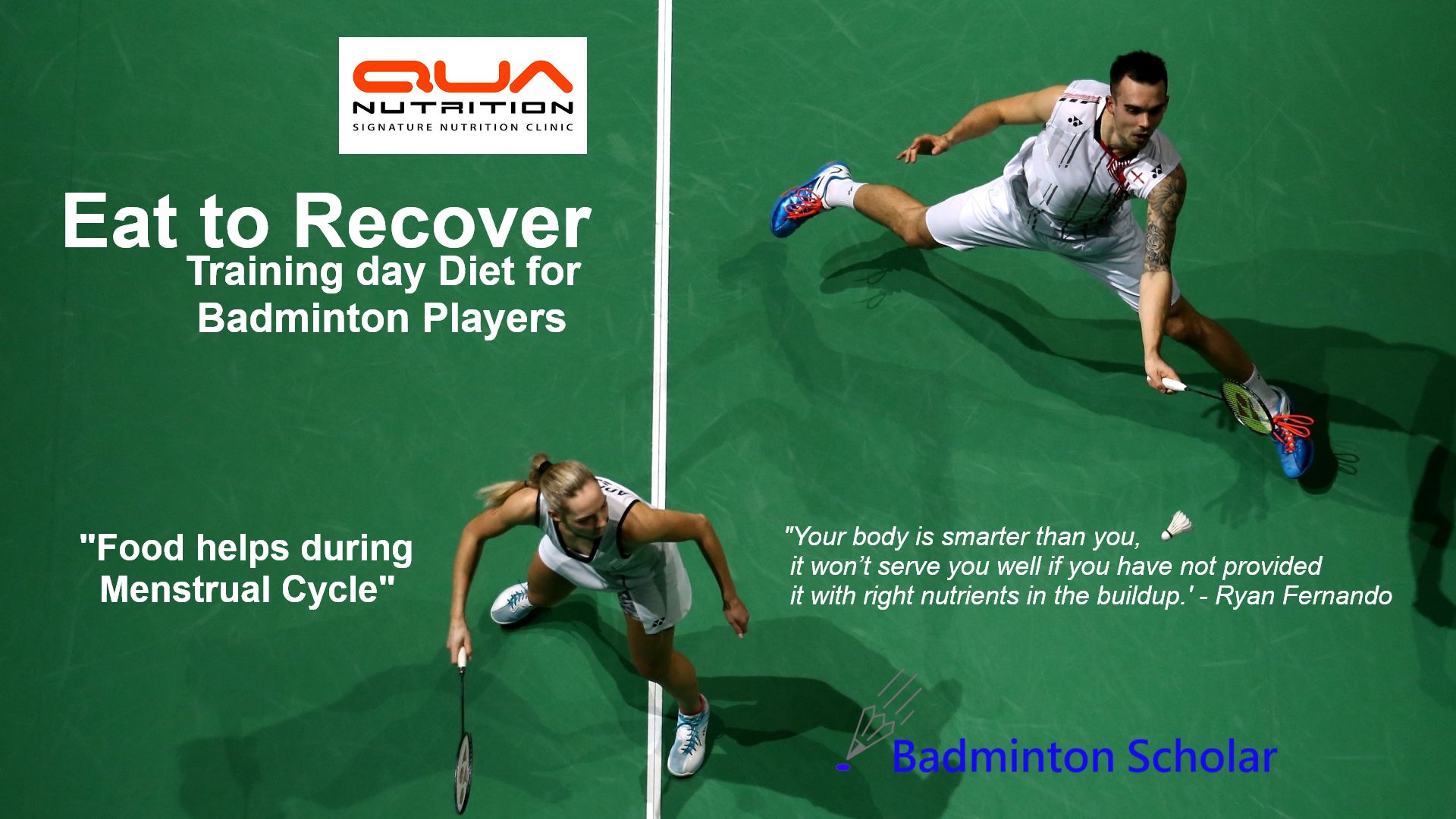 ---
"Your body is smarter than you, it won't serve you well if you have not provided it with right nutrients in the buildup. The more exposure athletes provide to themselves the better the probability of favorable results." - Riyan Fernando

Training helps athletes sharpen their axes (skills). This is where a work in progress athlete transforms into a complete player. That is why training routine is sacrosanct to athletes. The effort that they put in their training reflects on the performance.
Training is just not practicing technical skills, but also tactical, mental & nutritional discipline. Athletes should consult nutrition 20-30 days prior to a major competition to get their nutrition in place. It leaves me puzzled thinking if all this while they knew the importance of right nutrition why they have no enrolled before? There is no magic nutrition wand, which can give you result in a flash. Your body is smarter than you, it won't serve you well if you have not provided it with right nutrients in the buildup. The more exposure athletes provide to themselves the better the probability of favorable results.
For some of my athletes their training schedule starts as early as 3 am. But it varies for athlete to athlete. So before planning a training diet it is vital to understand what athlete's day looks like. Their sleep patterns, frequency and workload of training sessions, energy expenditure, travelling, education engagements, rest phase/day etc.
In a gist, each individual's training day nutrition strategy should be customized to the level that there each training day nutrition strategy shall be different based on energy expenditure.
Training Food options Athlete's schedule, food preferences and place (home/hostel) are correlated and defines how nutrition plan pans out. Most relevant options which caters to required nutrients needs to be identified.
Breakfast: Idli, Sambhar, Paratha, Milk, Dosa, Eggs, Porridge, Dry fruits, Upma, Poha
Lunch/Dinner: Dal, Roti, Sabzi, Curry Veg/Non Veg (chicken/mutton), Rice, Salad, Curd, Ghee.
During Training: Water, Fruits, Dry Fruits
Post Training: Water solution. Healthy snack options like Bhel, Dry Fruit Laddo, Roll.

You need to eat your recovery To take most out of a training session an athlete needs to recover well. Proper muscles fueling will help them in repair and growth which leads to higher training session adaptation and lower chances of injury occurrence. Certain foods can help enhance the recovery in athletes and should be included in the daily diet. Nuts, Oats, Beetroot and Eggs are some of the foods that help in recovery. There are also supplements for recovery but intake dosage should only be planned after consulting a nutritionist.
Menstrual cycle & Performance Menstruation is a natural process that occurs in female athletes & affects their performance. The fluctuation in hormones results in poor communication between neurons & muscle, tissues, ligaments which make body moves. The other effects are headaches, cramps, inflammation, back pain and higher injury risk.
Foods that will help during Menstrual Cycle Athletes on their menstrual cycle lose out on Irons which results in fatigue. Spinach, Chickpeas, eggs, chicken breast, beetroot, Nuts & seeds are rich source of Iron. Vitamin C helps enhance absorption of iron from the food. Oranges & banana are a good source of Vitamin C. In the premenstrual stage, calorie levels are generally higher & some athletes also experience food cravings. Including protein in the diet will help prevent cravings. Also due to certain hormones body may hold onto the salts therefore avoid outside/processed foods as use more salt in their preparation.
What if you get injured? Most athletes gain weight during post injury. They fail to realize that their calories requirement would be different to the training dates. Post injury athletes are not involved in physical training or even if they are involved, intensity & repetition will not be the same. So their output is reduced but their input is still the same. This is nightmare for coaches because
a) Athlete was out of action, which has affected his/her development cycle
b) Coach now has to invest additional time to bring that particular athlete back to his/her earlier fitness level
c) If athlete gets hurried into the fitness regaining process, there is a high probability of reoccurrence of injury at the later stage.
The right nutrition reduces the inflammation, helps repair and rebuild damage tissues, controls muscle atrophy and promotes overall health. Protein will help repair muscles and tissues, Carbs can help prevent weight gain (Check for genetic marker. Certain athletes can gain weight on consumption of carbs). Healthy fats in Avocado & Flaxseeds oil can help reduce inflammation and enhance recovery. Vitamin C found in citrus fruit helps in wound healing & boost immune function. Sweet potatoes & carrots contain Vitamin A that helps in cell growth and development.
It is difficult to state all the points here as this field is very broad. As a sports nutritionist my primary focus will always be on preventing the injury occurrence. The right nutrition does not only fend off injury scare but also your boost the ability to cope and recover quicker if unfavorable conditions arise.
Author: Riyan Fernando, Qua Nutrition

Sample Training Plan for a badminton player Below is the sample tournament day diet plan of one of our badminton player. All suggestions made are based on blood chemistry, genetics, energy expenditure, calorie requirements, dietary choices& patterns. We have shared this sample diet chart to give you a sneak peek into the in depth planning that goes behind making a nutrition strategy. Please do not try to imitate this into your routine as your requirements might just be different.
Click here for Sample Training Plan for a badminton player
Note: We have purposefully black marked supplements/ certain foods in the diet chart as it should only be taken under guided supervision of a nutritionist.
For a customized Badminton Nutrition Plan along with guided supplementation strategy contact us on 9743430000 or visit us at www.quanutrition.com

---