Chennai Superstarz trump matches would be XD or MD matches during PBL Season 5
---
Posted on Mon Dec 28 2020
---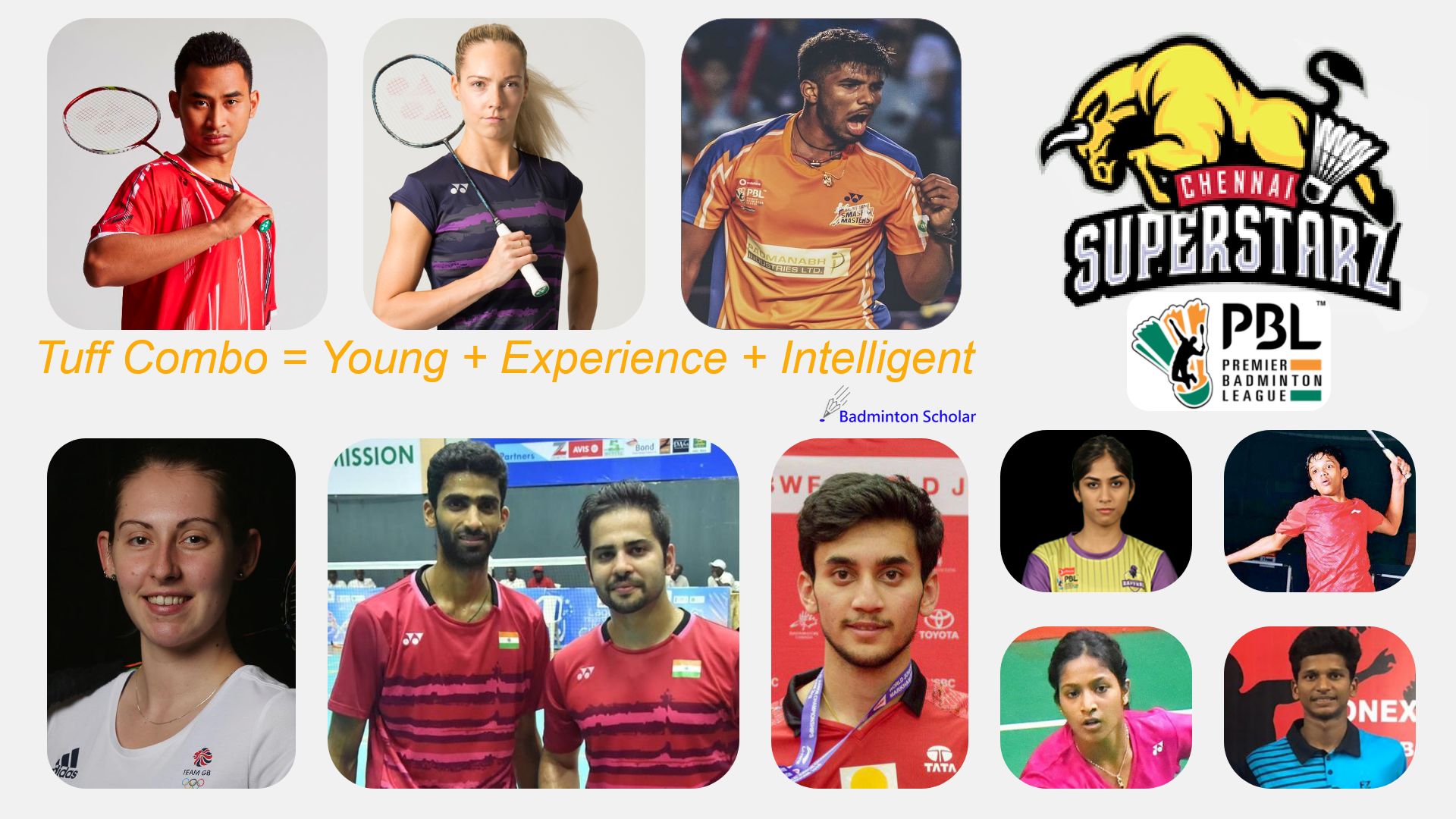 ---
"Rank order discloses that Chennai Superstarz trump matches would be XD or MD matches during Season 5."

Chennai Superstarz team combo was challenging and now its interesting. We analyze the Team in four perspectives, i.e. Age, Experience, Rank & Performance, and Fan Attraction

Age Average age of the team is 23 and 50% of the players are teen age players includes MS40 Lakshya Sen and MD 13 Satwiksairaj.
International Experience Tommy Sugiarto MS 17 Rank, Gabrielle Adcock XD 12, Sumeeth Reddy MD 30 and Kirsty Gilmour WS 31 are adding value to the team with international experience of 1281 wins (354+ 428 + 172 + 327 Respectively).
Rank and Performance XD12, MD13, MS17, MD 30, WS31,... Rank order discloses that Superstarz trump matches would be XD or MD matches.
Fan Attraction Inclusion of recent doubles star Satwiksairaj Rankireddy and rising junior Star Lakshya Sen will cover fan attraction nationwide. Youngest player of this PBL Sankar Muthusamy, Gayatri Gopichand and Satheeshkumar will get local fan attraction.
Even though the team does not carry heavy weights like PV Sindhu 77L and Tai Tzu 77L and absence of Srikanth Kidambi, Saina Nehwal and Carolina Marin in PBL5 2020, Built team combo (Young + Experience + Intelligent) is interesting and challenged for title hunt.

Foreign Players:

1. Tommy Sugiarto MS BWF Rank 17 Indonesia Age 31 - 41L

2. Gabrielle Adcock XD Rank 12 England Age 29 - 20L

3. Kirsty Gilmour WS BWF Rank 31 Scotland Age 26 - 10L

Indian Players:

1. Satwiksairaj Rankireddy MD BWF Rank 13 Age 19 - 62L
2. Lakshya Sen MS BWF Rank 40 Age 18- 36L
3. B. Sumeeth Reddy MD BWF Rank 30 Age 28- 11L
4. Manu Attri MD BWF Rank 30 Age 26 - 10L
5. Sanjana Santosh WS BWF Rank 46 Age 22- 2L

6. Gayatri Gopichand WS BWF Rank 203 Age 16 - 2L
7. K. Sathish Kumar MS Age 18- 1L

8. Sankar Muthusamy MS BWF Rank 433 Age 16 - 1L
---