Compare Review Yonex Lining Young badminton racquets, light weight racquets at best price, best racquet for beginners and intermediate players
---
Posted on Sat Jan 02 2021
---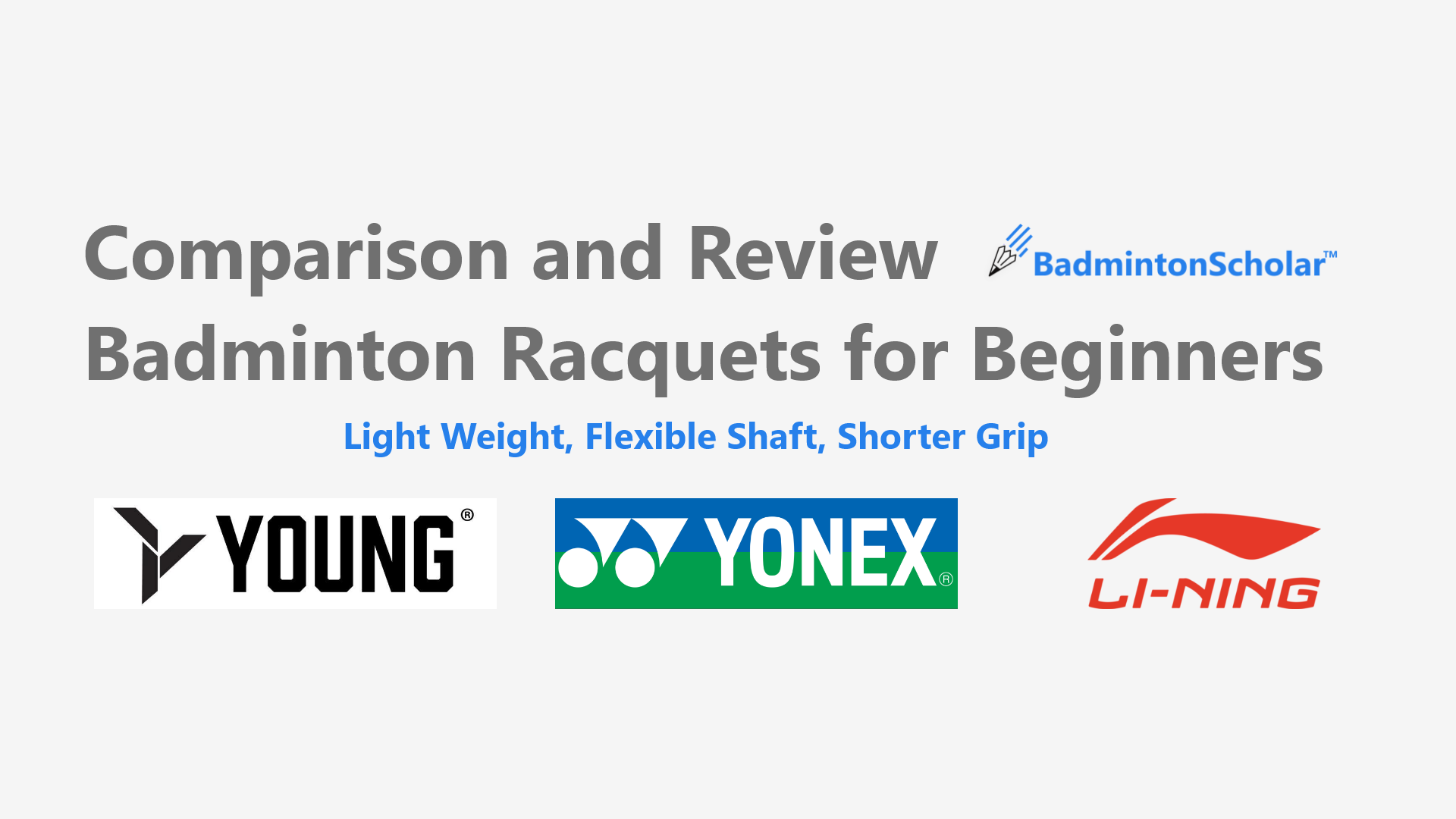 ---
Badminton racquet which delivers more power with less strength, ready for fast play, better mobility to defend easily due to the less in weight, provides better control is the search of most of the beginner and intermediate players. During the beginning phase of Badminton, young players may not require accuracy, but need better control, speed, power and movement.
Top brands are producing racquets to meet out the above criteria with the following specifications which are suitable
for quick swing, control, fast play and high Racquet speed.
Recommended Specifications for
beginner
/ intermediate players:
Weight 5U, 75 to 77g - Light Weight for fast and mobility
Isometric - Provide wider sweet spot
Balanced / Head light / Head heavy
Flexible / Stiff Shaft - Flexible for Beginner(Require Less Strength & Have Less Control) and Stiff for Intermediate Player
(Require more Strength & Have better Control)
Carbon Fiber / Graphite - Graphite provide more sophistication to the core
Max string tension 28 to
30lbs - Higher tension provide the choice of narrowing the sweet spot. Wider sweet spot is advised for beginner and intermediate players, it may be around 25 to 28 lbs.
Grip size G5 grip(3") for small hands, and G4(3.5") for regular hands - Smaller grip need more power from arm, but Larger grip need more power from finger. Smaller grip is advisable for young beginner players.
Now we review the products of top brands(Yonex, Young and Lining) available at Amazon with their price and popularity in the market for this category.
Spec.:

Material - Graphite, Shape - Isometric, Max String Tension - 28 lbs, Grip Size - G4 (3.5"), Weight - 5U 77 g, Head Light, Flexible Shaft
Made in India, Origin of Malaysia,
First in Market Jan 2020
YOUNG (Malaysia) Fury 7 Graphite Professional Badminton Racket, Lightweight, Head Light, One Piece High Modulus 24-Ton Graphite, Strung, (Neon-Yellow), Includes Full Cover
Spec.: Material - Carbon Fibre, Shape - Isometric, Max String Tension - 30 lbs, Grip Size - S2 (3.5"), Weight - 5U 77 g, Head Heavy, Flexible Shaft
Made in China, Origin of China,
First in Market Oct 2020
Spec.: Material - Carbon Fibre, Shape - Isometric, Max String Tension - 32 lbs, Grip Size - S2 (3.5"), Weight - 5U 78 g, Head Heavy, Flexible Shaft
Li-Ning G-Force Superlite 3600 Carbon-Fiber Strung Badminton Racquet with Free Full Cover
Spec.: Material - Carbon Fibre, Shape - Isometric, Max String Tension - 30 lbs, Grip Size - S2 (3.5"), Weight - 5U 78 g, Head Heavy, Flexible Shaft
Made in China, Origin of China,
First in Market SEP 2020
Li-Ning Wind Lite 700 Carbon Fibre Strung Badminton Racket with Free Full Cover
Spec.: Material - Graphite, Shape - Isometric, Max String Tension - 30lbs, Grip Size - G4 (3.5"), Weight - 5U 77 g, Head light, Stiff Shaft
First in Market SEP 2017,
Made in China, Origin of Japan
Spec.: Material - Graphite, Shape - Isometric, Max String Tension - 30lbs, Grip Size - G4 (3.5"), Weight - 5U 77 g, Head light, Stiff Shaft
Yonex Arcsaber 71 Light Graphite Badminton Raquet with free Full Cover (77 grams, 30 lbs Tension)
Spec.: Material - Graphite, Shape - Isometric, Max String Tension - 28 lbs, Grip Size - G4 (3.5"), Weight - 6U 73 g, Head Heavy, Flexible Shaft
First in Market Oct 2019,
Made in India, Origin of Japan
Rank list - Best in Price
Rank List - Lesser Weight
Amazon Rank - Badminton Racquets
---