Lakshya Sen's Road to Tokyo 2021 and Paris 2024
---
Posted on Sat Jan 02 2021
---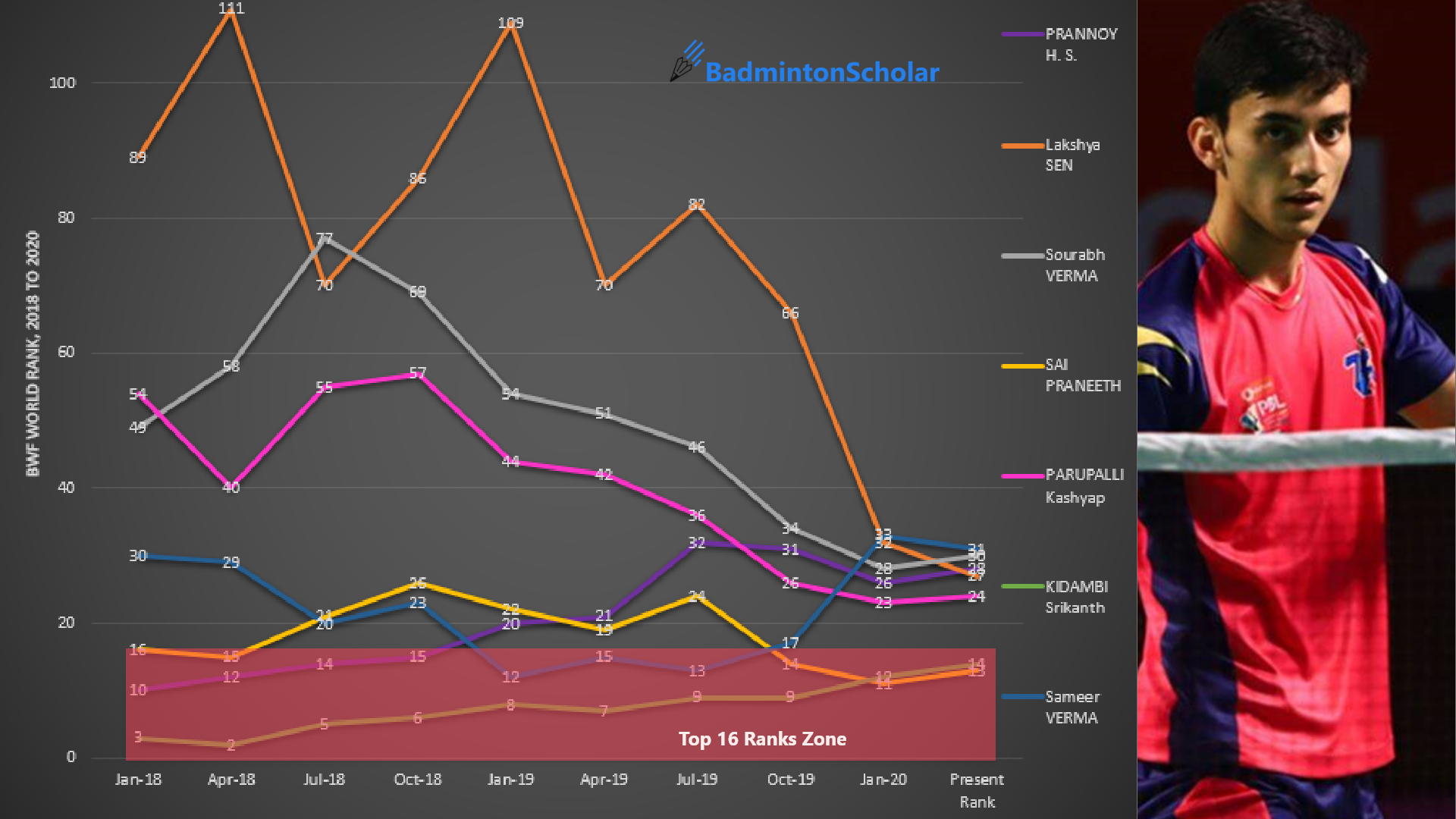 ---
India's emerging badminton star Lakshya Sen has shown clarity on his growth and progress by establishing himself a strong contestant to represent the country in Olympics. 19 Years Sen is World Ranking 27 and he is the youngest player in the top 50 BWF World Ranking Players. Though he had lost in the pre quarter finals of All England Open 2020 and Denmark Open 2020, he promised by fighting with Denmark's Victor Axelsen 17-21, 18-21 and Vittnguhus 21-15, 7-21, 17-21 respectively.
"Lakshya
Sen
distinguished himself with his age and the number of tournaments played during the last four years. He has shown steady progress in world rank. Fitness, Injury Management and Focus are his key factors to reach BWF World Rank 25 at his age of 19."
Lakshya Sen's probability of representing India in the Olympics is discussed here. With reference to BWF world rank list on 28th Apr 2020 for Olympic Qualification, Sai Praneeth is ensuring his berth at Tokyo 2021 during July 2021. Kidambi Srikanth and Lakshya Sen are trailing with world rank 22 and 25 respectively.
To qualify and represent India at Olympic in Badminton, with reference to the qualification process regulations, athletes should be in the top 16 of BWF World Ranking on the mentioned deadline. Due to the pandemic, Summer Olympic Tokyo 2020 has been postponed to July 2021 and the deadline to finalize the qualification list is the fourth week of April 2021(29th April 2021). In addition to Kidambi Srikanth and Lakshya Sen, Sourabh Verma, Parupalli Kashyap, Prannoy H. S., Sameer Verma, Subhankar Dey are in 27, 29, 30, and 46 BWF Ranking and competing with Sai Praneeth to play for India. Qualification will be based on these five players' performance during the next 21 weeks. Pandemic situation is restricting the number of tournaments and challenging the player's opportunities.
Comparison of Top Players age and total number of Tournaments Played in last 4 years